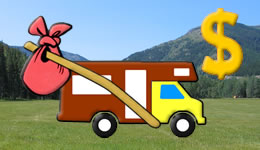 We offer several ways for RVers to make a few bucks while travelling. You can write a blog or become a staff writer and share in revenues, you can open up a Concession in our store and sell your goods or services. Qualified professionals, working or retired, can provide advice to fellow members.
If your interested in making some extra money while on the road, from home, or are a qualified business with products and/or services of interest to our members, visit our website at:
PS: You can get to our "Make A Few Bucks" Website from our menus or using the earn.rvhobo.net URL.