The Pressing Need for a Summer LTVA Replacement
During the winter season, from September 15 until April 15, Boondockers have a wonderful choice of BLM LTVAs, with Imperial Dam being the cream at the top of the list. Unfortunately, during the summer season, the choices of where to stay for long-term visitors at the BLM, U.S. Forests and National Parks are slim indeed.
Up until now, the only choices of summer LTVAs have been campgrounds run by the BLM Bishop Field Office. The Southern BLM LTVAs are quick to point out and deny any association with the BLM Bishop Field Office and for good reason, strongly declaring they are not part of the BLM's LTVA system. The Bishop BLM District once offered a summer long-term rate. It does no longer, at least not one affordable to many Boondockers.
The Bishop Field Office disproportionately raised their long-term rates on a group consisting almost entirely of seniors. They jumped their senior rate by almost 300% while their other, short-term rates only went up a maximum of 50%. If the Bishop Field Office's intent was to target and remove seniors from their campgrounds, they were successful in doing so.
This comes as no surprise, as the Bishop BLM District certainly appears to be the most corrupt BLM district in the country and by all accounts, the worst run.
All of this points out the urgent need for a summer replacement for all those full-time RVers looking for a long-term summer home. Welcome to the Baja LTVA!
What Is The Perfect Summer LTVA?
At the top of everyone's list are cool temperatures. Next are shopping and medical facilities. And certainly, how about a low cost of living?
A little more specific on our lists are water, dump stations, trash disposal, laundry, propane and gas stations. Then there are showers, the view and of course, security.
Many Southern LTVAers have gotten used to the cheap drug prices and dentists right across the border in Los Algodones as well as having a city like Yuma close by.
So, what if we could have an LTVA that had all of the above and a whole lot more? Keep reading.
The Baja LTVA, a place for all seasons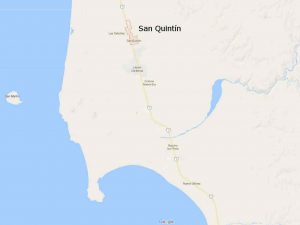 The Baja LTVA is a group of campgrounds in the San Quintín Valley area. That's right! San Quintín, Baja California, Mexico on the Pacific side of the Peninsula. If you like San Diego weather, rated the best in the continental U.S., this is the place for you! The Baja LTVA offers special rates for both the Winter and Summer seasons. Many may find out after staying here for the season that they simply don't want to leave. For those who wish to retire down here, we are negotiating special rates for ocean view and access lots where you can lease a lot for just under 10 years for $1000 – $1500 per year and make it your home. This is the perfect way to enjoy this pristine paradise year round. More information on this is coming soon.
While many of you may shudder in fear at the thought of going to Baja after hearing those stories of kidnapping, rape and murder, you might want to check out the actual statistics which show that you are much more likely to be affected by crime in almost any major U.S. or Canadian city. Would you go for a stroll after midnight in Chicago? We didn't think so.
First off, there are three Mexico's. 1) The border towns, (this is where most of the reputation for crime comes from), 2) the resorts, (if you've got the bucks) and, 3) what we call "Old Mexico", small towns far from the borders and the resorts where the people are friendly, the prices are low and you can enjoy some of the most spectacular views on the planet. Yes, there's crime in "Old Mexico" as well, but see the part about "actual statistics" in the paragraph above.
As long-time veterans of living in Baja, we've never had a problem, which we attribute to following a few very simple rules: Don't travel at night, don't be an "ugly American" (this goes for Canadians as well) and use your head, common sense applies. Just because you're a northerner south of the border, don't assume everyone thinks you're one of the greatest people on the planet. Just like everywhere, you need to earn respect. The one thing you will notice is that you will be given every opportunity to earn respect by the locals and be welcomed to their community. A hint: try to learn a little Spanish. This is appreciated by the locals more than you can imagine. It doesn't matter how badly you mangle the language, they will always be there with a smile and help you along. And most importantly, be prepared to laugh, especially at yourself.
As for the trip down to San Quintín, if you have driven California highway 1, then you will love the scenic, winding drive down to the Baja LTVA. If the thought of driving your rig down highway 1 makes you sweat, ya' better stay north.
There is a gang problem in Baja just like in all major U.S. and Canadian cities. Gangs fight for territory here just like up North. Violence, yes even murders, are almost always between rival gangs.
Note that violence is rare in the San Quintín valley, but has happened. Also note that when it did, Federal and Baja state police reacted with an enormous response, far greater than the Berkeley police did when innocent people were beaten and property destroyed as the Berkeley Police stood by and watched. Almost never are innocent people or property affected here.
Big Time Shopping: Most everything you want is available locally, with no need to cross the border for cheap drugs, dental and medical care since you're already across the border! Also, all of the major shopping chains like Costco, Walmart, Home Depot, etc., are just a shopping day away in Ensenada.
Membership
One of the benefits of your membership (almost ready!) to our family of websites is that you will be able to get everything you need to come to the Baja LTVA on our websites, with detailed instructions and any required paperwork like permits and insurance, including medevac insurance. You will also be able to select (complete with tour) and pay for your site online. And if you prefer coming down in groups, we will be organizing caravans. We recommend crossing at Tecate where there is almost no waiting and gasoline and a peso exchange are available at Tecate U.S. just before you cross the border.
The Baja LTVA Kampgrounds
No matter if you want a gated community with full hookups close to town or one right on the ocean, it is here waiting for you. With full hookup sites, be advised that the water is a little salty. It's good for showers and washing but not for drinking. Drinking water is available for about 3 pesos (about $0.16) a gallon.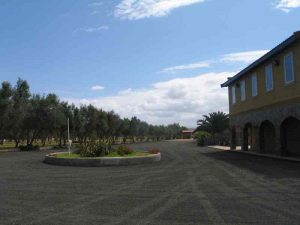 Los Olivos RV Park: Is a gated, manicured campground close to town. It's run by a Canadian Christian Group, but don't worry, church is not required. It offers many of the amenities English-speaking North Americans expect. There are 7 full hookup sites (15 amp service only), 6 grassy sites under the olive trees with water (grass sites not available during the summer season for LTVA stays) and 6 boondocking sites.
NOTICE: The Baja LTVA and Los Olivos RV Park have decided that the Los Olivos RV Park will not be a part of the Baja LTVA as it does not currently meet our standards nor will the Los Olivos RV Park be able to meet our standards for the upcoming season. Full Story…
Drinking water is available for purchase on the premises. The bathrooms and showers are immaculate as is the swimming pool. The staff is both friendly and helpful. Many speak only Spanish, but posted signs and our upcoming "websphere" will get you by. We estimate rates for boondocking sites will range from $300 – $500 for the season. Please know this is solely our estimate. We will publish the actual rates when and if set with Los Olivos RV Park.
Please note that Los Olivos RV Park, as part of their community outreach program, for a small charge, allow locals to use their youth facilities which include the pool, soccer field, bike track and playground. We're told that the use is heaviest during June – August with average ages 2 – 16. Note that the manager Stan Schulz has alerted us to advise members that they should keep their items locked up due to what he described as thefts by some visitors to the recreation area.
Los Olivos RV Park is close to what we have not yet personally reviewed, but understand is one of the areas' best hotel and restaurant, Jardines Baja. We're told it offers a place for anyone visiting you to stay, right next door, and a great place to go for dinner with or without your guests. And all within a few minutes' walk.
The Negatives: Although to get anywhere off the main highway (Mexico Highway 1) you must take dirt roads, the road to Los OlivosRV Park  is an especially bone-jarring one. To go to town, we had to add 10 minutes to the trip, each way. If you're driving your RV, double that time. Also, although free WiFi is included  by Los Olivos RV Park, it is spotty at best from the full-hookup sites. To get the best reception you will need to sit on the bench outside the pool, close to the office where the inside WiFi is located.
Los Olivos RV Park: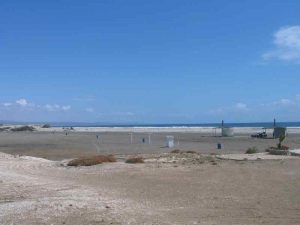 Fidel's El Pabellon: Is located right on the Pacific Ocean with a spectacular beach and gorgeous sunsets. One of its biggest assets is Fidel, the owner and your host, who lives right on the premises and speaks "pretty good" English. There are 6 water and electric (15 amps only) and 2 electric-only sites available for $15 a day and about 54 spacious, beachfront and ocean view boondocking sites. Amenities include flush toilets, showers, dump station and it has fresh water trucked in (not salty as at most campgrounds). WiFi is available from the main office (and Fidel's residence). Every site is large and has spectacular views and beach access. The beach is a local favorite for clamming and fishing. Swimming is fantastic with water temps the same as San Diego! OK, us silver haired folks may wait until August to test the water, when the temperature reaches 70F.
As you would expect with an LTVA right on the beach, boondocking prices are determined by the proximity of the row to the beach. Guess what! A season (6 months) costs less than a beachfront San Diego RV Park charges for less than a week. There are 3 rows ranging from beachfront to the rear. Kampsites are roomy with an average size of 45′ wide by 50′ – 100′ long. Prices are for the ENTIRE 6 month season. Beachfront rows (right on the El Pabellon beach): $500, row 2: $400, row 3 on back (what we call Boondocker's Paradise): $300 and includes ocean view and beach access for you and your car (you can drive on the beach similar to Pismo Beach in California). All sites will soon be available to view, schedule, reserve and pay for online at the San Quintín Baja LTVA (coming soon). Both the San Quintín Websphere and Fidel's elpabellon.net (coming soon) will get you to the online booking site as well.
For the 6 water and electric (15 amp service) and 2 electric-only sites, we estimate an additional charge of $5 per day (air conditioning and electric heaters prohibited). Metered connections are planned for the near future. During part of the winter season (January – March), Fidel is a stop-over for RV caravans touring Baja, so you may have some company for a few days.
As our members discover this hidden jewel, part of their fees will go to painting and minor repairs with near-resort-like facilities on the horizon.
For full disclosure: Fidel's El Pabellon is the campground where the authors of this article chose to live.
The Negatives: Fidel's El Pabellon is about 20 minutes south of most shopping but the condition of the road to and from Fidels's, though not perfect, can shorten the time frame as compared to other campgrounds closer to town. The campground is right on the ocean so even the sand dunes out front may not stop a storm surge from flooding the campground. While this is very rare (once about every 5 years we're told), when a severe storm is imminent, you can move up the access road and sit out the storm. Fidel's, like most campgrounds, is dependent on income from the campground itself and this diamond in the rough has also been left out of any professional Internet exposure. In fact, what Internet exposure Fidel's has had resulted in its online GPS coordinates set to another kampground.
​More Kampgrounds Coming
We have just started inspecting and signing up kampgrounds in the area for the Baja LTVA. We expect to add more great, inspected kampgrounds to our list. As always, we will provide our members with the facts, both good and bad, about every one of them. We will also offer mediation if it is ever required and we reserve the right to cancel the membership of any member solely at our discretion. This applies both to members and member kampgrounds.
About the Baja LTVA
The Baja LTVA is about providing services to our members, mostly seniors. Many are part of a real community in the Southern BLM LTVAs. During the summer season, many have homes or boondock around the Northwest, staying 2 weeks at a time at National Forests and BLM land. The Baja LTVA gives our members an alternative for the summer and winter seasons, alternatives with which, we think, they will be very happy.
Our new membership directory was designed to help our members in the case of an emergency. Basically, when our members call 911, their location, directions and medical history are made available to emergency responders. This allows our members and their medical records to be found. Additionally, it can alert Emergency Assistance Teams to help find members in remote locations. Package delivery, when available, and friends and family notification in an emergency, are other great features.
We are greatly expanding our services to work across all of our websites. Our intention is to provide everything necessary for our members to register at a kampground and pay their fees online. We will also include the ability to purchase Tourist Visas and auto/RV insurance online with just a click or two. Of course, we will also provide information to not only help members get here, but make them knowledgeable by having honest information available. Wait until our new "Websphere" is up and running. This will hook members up with information and custom Google maps with door-to-door directions to businesses and services as well as the local points of interest you won't want to miss. We make it simple to find it, learn about it and rate it.
So sign up for our newsletter and shortly, visit the new Baja LTVA bajaltva.com (coming real soon). We make you feel like you're already here.
This is an overview of our upcoming series on San Quintín and just how we're building the Baja LTVA from the ground up. You can be part of that. Be sure to tune in for part 1, where we will talk about getting ready for our fantastic trip from Imperial Dam LTVA to San Quintín Baja California. This includes getting papers for our two Great Danes, insurance for our two vehicles and our tourist visas, both buying them online and then getting them stamped. And see for yourself the fantastic scenery we enjoyed while getting here.
The Baja LTVA Series