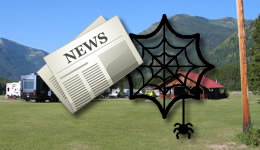 You have probably already discovered the RV Hobo Blog, but you should also check out the many other fantastic blogs here on the RV Hobo Network. Everything from blogs from fellow RVers, writing about their travels, fantastic how-to blogs and the Community Blogs, written by their Members, like the LTVA Community.
NewsNet is a service that brings it all together. The latest and most popular articles from all of the blogs in our network. You can view the latest headlines, search for blogs, search blogs for specific information, use site-wide tags to  zero in on what your looking for, fast, or our favorite, use our Reader and organize your favorite  blogs and bloggers, all in one place,  their when you want to read them.
It's about being inclusive. The RV Hobo Network was created to be a special place for RVers, all RVers. From LTVA Campgrounds to exclusive RV Parks. This is your website, no matter what your looking for. If your an aspiring author or would like to move your blog to the RV Hobo Network, we want to include you. Want to have your campground or interest group with its own Community Blog, just visit our Communities and start your own.
Be sure you checkout the latest NewsNet headlines, comments, tags and search box right on our front page.
Welcome to NewsNet, welcome to the RV Hobo Network